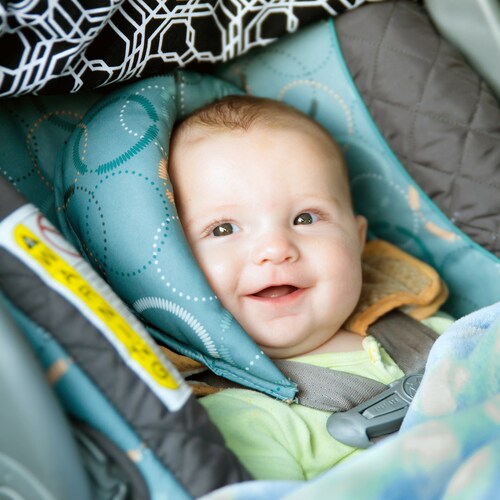 Coats & Car Seats
As the temperatures drop more and more, I put more and more clothes on my daughter. I put leggings under her pants and an undershirt under her sweater. I bundle her in a coat, hat and hood. Then, I wrap her in a scarf and slip on her mittens. You would think we walked to school. Nope! We walk to the driveway and go through the carpool line. 
When we reach the car and climb inside, I peel off some of the layers. Although I want to keep her warm, her coat causes problems under her car seat harness. A bulky coat can add four inches of slack between the straps and your child. That may not sound like a lot, but it's a big deal if you are in an accident. According to experts, the four inches of space could increase injuries, especially head injuries. So instead of a thick coat, try laying your child with a long sleeve shirt and a thin hooded sweatshirt. You can also keep a blanket nearby and cover your child. Some coat manufacturers have troubleshot this issue by creating coats that unzip at the sides and waist and turns into a poncho. If you want to take another measure to keep your child warm, install an remote start system or do it the old fashioned way-run out to your car and start it manually.
Before you pull out of your driveway or parking place, make sure the harness straps are secure and your child is snug.