Regularly Service Your Vehicle at Humes Chrysler Dodge Jeep Ram
Whether you purchase a new model or a pre-owned vehicle at our dealership, one of the most important steps you can take in maintaining your vehicle is to bring it in for routine service. Once everything is said and done, and you have already picked out your favorite model, you have chosen a finance plan, and you drove it into your driveway--we encourage you to take a look at your vehicle's handbook to plan ahead. We at Humes Chrysler Dodge Jeep Ram are ready to help! Our well-equipped Service Center can help Erie, PA drivers tackle any routine maintenance or large repairs with our Mopar Service Center.
Whether you need your oil and filters changed, tires rotated and replaced, brakes checked, or you need a complete overhaul, our highly trained auto technicians can take on your vehicle. We also offer state inspections to ensure your car is road-ready and safe for you and your family, genuine Mopar Auto parts, and much more. Be sure to take advantage of our long service hours (including Saturdays) and our certified technicians at your convenience!
To prevent future repairs and to nip problems in the bud, we encourage you to visit our Service Center as soon as your vehicle makes any funny noises or your check engine light turns on! Just give us a call, contact us online, or stop by our dealership today. We welcome our guests from Waterford, Erie, Meadville, Titusville and Fairview, PA . See you soon!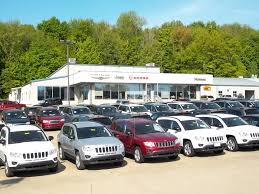 Chrysler Dodge Jeep Ram Service Center Hours
  
Phone: (877) 595-6988
               
                               
Sunday: Closed